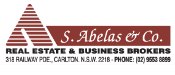 S.Abelas & Co Real Estate & Business Brokers
Samade Investments Pty Ltd (Abelas)
318 Railway Parade
Carlton
NSW 2218 02 9553 8899
Contact:
Spyros Abelas
S.Abelas & Co. Real Estate & Business Brokers is an independent member of the Australian Institute of Business Brokers & Real Estate Institute of NSW. We give our clients the assurance of our commitment to a national standard of Integrity. We are the leading specialist in sales and marketing of large and small business Freehold or Leasehold including food outlets, restaurants, cafes, supermarkets, manufacturing and many other. We have a large number of qualified buyers (Sydney, NSW and Australia wide) on our books, looking to buy businesses ranging in value from $50,000 to $5 million. Our commitment is of a national standard of integrity priding ourselves on our honesty and personalised service, as well as maintaining the privacy and confidentiality of our clients.
Business Brokers
S.Abelas & Co Real Estate & Business Brokers
---
Email Spyros Abelas from S.Abelas & Co Real Estate & Business Brokers - NSW
CONTACT A BUSINESS BROKER
Please fill out the form below to send us an email.
We will be in touch with you promptly.